Turbo-Seal Injection Waterproofing System

Drill down to the existing damaged membrane waterproofing layer. Inject Turbo-Seal with its excellent viscosity, expandability, and flexibility into the front or rear of the membrane to repair damage and restore waterproofing.
Drilling

Drill 18mm diameter holes at 1-meter intervals from the bottom to the top.




Installing the injection packer

For most applications, an injection pipe with an outer diameter of 18mm and a packer are used to make an injection opening and inspection holes at 1-meter intervals.

Injecting Turbo-Seal




Injecting Turbo-Seal

Continue injecting Turbo-Seal until it overflows from the top loophole.

Injection completed

After finishing the injection, close the injection opening with the nonwoven polymer mortar.
---
Poly-AS Waterproofing System

Turbo-Seal P + Turbo sheet
This waterproofing method combines Turbo-Seal P, an adhesive and self-sealing waterproofing gel, with the special Turbo sheet to form a multilayer, compound waterproofing system. This dynamic material repairs ruptures and cracks on existing waterproofing layers and solves the damage with its self-sealing capability. If existing sheet layers are damaged, Turbo-Seal P expands on contact with water and fills in the damaged part of the sheet, effectively stopping water leakage and seepage between the sheet and concrete base surface.
Waterproofing Process For Concealed Roof System





Underground Waterproofing Process For New Projects





Combined Wall Section






---
Exposed Poly-AS Combined Waterproofing System
3-ply exposed system - Turbo-Seal P + Turbo Sheet + Exposed Sheet
This 3-ply exposed waterproofing system combines the self-adhesive Turbo-Seal P, Turbo Sheet and specially heat-treated colored Exposed Sheets.
---
Expansion Joint Waterproofing System

All materials including concrete and waterproofing material have their own coefficient of thermal expansion, contracting and expanding on the central axis according to temperature change. Since the concrete joint that contributes the most water leakage is located at the farthest point from the central axis, it has the largest movement range. Turbo-Seal flexibly responds to these contractions and expansions to stop water leakage.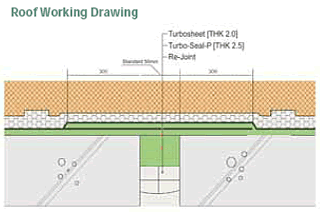 Back To Top